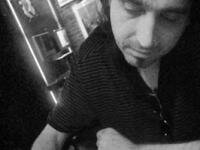 Poetry & short fiction editor; illustrator; jack of all, master of some.
Co-author of short story collection Occam's Blunt Instrument ("Utterly superb!" - Marvin Cheeseman / "Razor sharp" - Salford Advertiser).
Recent illustrations for We Are Poets! by Helên Thomas, How to Dump Your Girlfriend by Julian Daniel & Henry Pumpkin; Tomorrow, I Will Go Dancing by Dominic Berry, The Wisdom of the Jumble Sale by Jackie Hgan.
Editor of The Ugly Tree poetry magazine; co-editor of Ballista spec lit magazine.
Website : www.flapjackpress.co.uk
Email : flapjackpress@live.co.uk
Titles by Paul Neads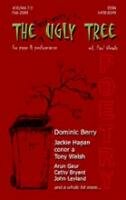 The Ugly Tree #20
The last ever issue, #20, is OUT NOW and features an interview with, and previously unpublished poems by, Manchester's premier Queer Vegan Poet Dominic Berry. Plus new work from Helên Thomas, Rod Tame, Phil Isherwood, Tony Curry, Carol Batton, Dermot Glennon, Peter Johnson, Brink, Joshua Seigal, conor a, Al Keogh, Adam Irving, Geoff Stevens, John G. Hall, Neil Campbell, Josh Thompson, Greg Schwartz, Richard Matthews, Mark Farrell, Caroline England, Matt Dennison, Arun Gaur, 'Siva Monsieur, Simon Rennie, Jackie Hagan, Arthur Chappell, Deborah Tyler-Bennett, John Lowndes, Michael Wilson, Tony Walsh, Cathy Bryant, Lucy Lepchani & John Leyland.
Our thanks to all our subscribers and contributors over the past 7 years.

See the what's on guide or visit www.flapjackpress.co.uk for news of our "That's Your Lot" gigs!
Price £4.00
Details

BALLISTA #6
Issue 6, spring/summer 2009, presents chilling new horror & sf from Michelle Howarth, Natalie Donbavand, Steve Richards, Gwen Seabourne, Andrew Knighton, Marshall Payne, James Holland, Lee Callaway, Nik Perring & Neil James Hudson.

Price £4.00
Details
ISBN issn-17506646
Publisher Flapjack Press
Genre Short Fiction
Extent 60pp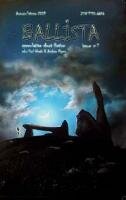 Ballista issue 7
Ballista deliciously presents fresh and inventive tales considering the supernatural, psychological, paranormal, modern horror, mythos, macabre, SF, dark fantasy or just the downright bizarre.

Issue 7 is available now and features chilling new tales from David Tallerman, Neil Beynon, Daniel Wilson, Terence Kuch, Brian G. Ross, Naoka Awa, Mario Milosevic, Phil Kurthausen & Jon Vagg. Sadly, this will be our final issue.
The editor scrutinises the screen of his laptop, trying hard to ignore the gaze of the thing on the shelf, the lamentable rustling of its papery soul. He wonders if he is going mad, whether the conversation he'd just had with it really happened.
After a while, he perceives its insistent whisper again. 'So that's it? After all we've been through? You're just ending it?'
He shrugs, trying to conceal his guilt beneath a mask of nonchalance. 'All good things . . .' He doesn't have the heart to complete the excruciating platitude.
There is a shadow around the thing where the damp wallpaper falls across it. 'But why?' it seems to whimper...
Price £4.00
Details
ISBN 17506646.....
Publisher Flapjack Press
Genre Short Fiction
Extent 48pp