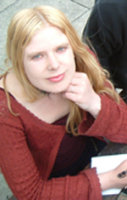 Gaia Holmes is a young poet who mixes the urban and mundane with the exotic and surreal; her canvas covers everything from crowded early morning buses, filled with the scent of the previous night's sins, to postcards from the Orkneys and illustrations of remote village life.

Gaia's poetry has appeared in Brando's Hat, Dreamcatcher, Mslexia, Pennine Platform, The Slab, Staple and The Yellow Crane as well as in two anthologies: Taste (ClanU) and You Can't Make a Hamlet Without Breaking Some Heads (Bluetouch).

Her debut collection Dr James Graham's Celestial Bed is published by Comma.
To hear Gaia Holmes read a selection of poems from 'Dr James Graham's Celestial Bed', follow the link below.
Listen to Gaia read 'Exposure'.
Website : http://www.commapress.co.uk/?section=authors&page=holmespage

Titles by Gaia Holmes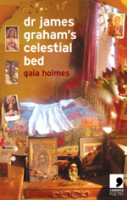 Dr James Graham's Celestial Bed
This first collection from Huddersfield poet Gaia Holmes mixes the urban with the exotic, with bulletins that cover everything from early morning buses to late night streets, postcards from the Orkneys to illustrations of small town life.

The poems in this debut collection are made from intense sensual experience, bursting with colours, flavours and textures. Gaia Holmes has an eye for the strangeness of things, from 'fat lenses of jellyfish/packed in jigsaws of ice' to the sounds and smells of the steelworks, where 'metal shrieks as it softens and throbs/under the core of heat.' - Jean Sprackland


"There's something in these poems that I can only call 'detailed intimacy' and 'closely-worked humanity'; the language is inclusive but still challenging and draws me into reading after reading. A splendid collection that will grow on you." - Ian McMillan


"Sassy and streetwise, dark and blue, these are poems that are high on words; full of rich imaginings and dislocated love affairs, peopled with ordinary folk made exotic, and with the strange made true. Read them." - Amanda Dalton

List Price £7.95
Price £5.00
Details
ISBN 0954828089
Publisher Comma Press
Genre Poetry
Extent 80pp