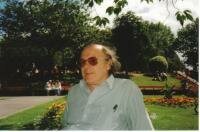 Ged is a Manchester based writer. His varied work (including books, plays, story collections, radio and film work) recently has a China focus. He lives in Didsbury and teaches English at Manchester University. He has worked in China, Somalia, the Yemen, San Francisco, Guatemala and Germany. His latest books are Rice Ticket (Paul Mould, 2005, ISBN 1904959253) and Joint Venture (due out in 2008). His plays are Taking A Liberty, Lao Wai, and (this year) What Time Is It, Mr Wu?
With his Chinese wife, Amy, Ged runs an arts organisation called China Here And There (www.chinahereandthere.com) also based in Didsbury.

"In the dining hall of the Double Rainbow hotel, in the north-east suburbs of Beijing, Christopher Chinley felt all eyes upon him as he attempted to prise a button mushroom between his chopsticks. He managed to lift it out of its dish, but before reaching his bowl it fell on to the tablecloth, staining the white linen with a patch of yellow cooking oil. He then tried to retrieve it with a porcelain soup spoon, but succeeded only in pushing it further away, down a trail of glistening grease. Mr Wang, who was co-hosting the banquet with his boss and family friend Mr Deng, scissored the mushroom and dropped it on to Chinley's bowl, saying "So what exactly are you an expert in, Professor?""
From Rice Ticket