Gerry Badger is a well respected photo historian and critic. Co-author (with Martin Parr) of the two volume 'The Photobook: A History', he has also curated a number of exhibitions, including `Through the Looking Glass:
Post-war British Photography' for the Barbican Arts Centre, London. His published books include Collecting Photography (2003) and books on Eugene Atget and Chris Killip. He lives in London.
Titles by Gerry Badger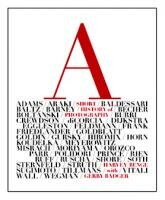 A Short History of Photography
'While looking through his contact sheets, Harvey Benge noticed that one of his pictures reminded him of a 'Friedlander', another someone else. All photographers do this, and if the photograph in question apes another photographer too closely, it's usually a cause for rejection. But Benge did the opposite. Picking out his 'Friedlander' and his 'Parr' and his 'Baltz' he decided to make an 'anthology' of contemporary photography featuring some of its biggest names. Yet they are all genuine, original Benges. They are also all good pictures, not mere pastiches of the 'originals' of which they gently but insistently remind one. This may be a game, but games can be very serious, and this fascinating book is both a serious and light-hearted exploration of photographic style.' – Gerry Badger

Working from both Paris and Auckland, New Zealander Harvey Benge has established an enviable international reputation with exhibitions throughout the world. He has published over a dozen books and has been a finalist of the Prix du Livre, Arles Festival, France. His work is held in many major collections.
Price
£14.99
Details