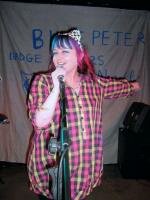 Originally from Skem, Jackie Hagan is a Manchester-based performance poet and workshop facilitator.
Website : http://jackiehagan.weebly.com/

Titles by Jackie Hagan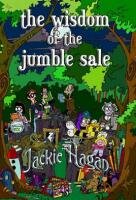 The Wisdom of the Jumble Sale
Welcome to this dark and dazzling jumble sale, where If you pull aside a jam-stained coat and a frilly night gown, you can enter a secret magical world of drunken carebears and narky buses, where clowns eat spam, sugar and lard butties and if you stand outside Netto for long enough a rocketship will come and fly you away.
A world where the moon is fat on hot buttered toast, wisdom is biro'd on the back of everyone's hand and the weird and broken puff out their chests with giggling pride.
Come in and meet Cat Diazepam, Bobby Bookshop, Veronica Pop, Mr Pinstripe and their friends and find out who brought Bambi's mum back to life, in this, Jackie Hagan's collection of adult contemporary folklore.

JUNK-SHOP-ROCKET-SHIP-POETRY FOR YER BRAIN!

vivid and insightful - City Life / sassy and brash
- Jack Hirschmann, San Francisco Poet Laureate /
language that leaps with bold panache, sparking
sensuous worlds into being - Lucy Lepchani /
a star - Chloe Poems

Price £6.50
Details

Some People Have Too Many Legs
In April 2013 Jackie Hagan was commissioned to write a solo show. The following month she was unexpectedly admitted to hospital with a very painful foot. Four months later she left hospital with one less leg and loads more maturity. Along the way she also fell in love, found her Dad and made friends with an old woman who looked like a threadbare tennis ball (with eyes). This is the book of the script of the show, a poetic comedy with daftness, depth and special effects.
"A unique and utterly compelling performer. With wit and charm, she manages to make us laugh in the face of adversity." - Matt Fenton, Artistic Director, Contact Theatre / "Jackie Hagan boldly goes where no one even knows it's possible to go. Then gets the bus back home eating chips on the top deck."- Jo Warburton, poet / "Jackie creates her own individual poetic language with a defiant honesty of storytelling that resonated around my brain for days." - Liz O'Neill, CEO Z-arts / Some People Have Too Many Legs is a Contact Theatre / Flying Solo / National Rural Touring Forum commission, supported by Arts Council England and in association with Take Art
Price £6.00
Details