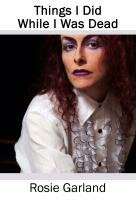 Rosie has an eclectic writing and performance history, ranging from singing in 80s Goth band The March Violets to electrifying performer-poet, compere and singer Rosie Lugosi the Vampire Queen. She has performed at events as diverse as The Cheltenham Literature Festival, Kinkfest and Stockholm Gay Pride. As well as 3 previous solo collections of poetry, her award-winning short stories, poems and essays have been widely anthologised. She has won both the Erotic Oscar for Performance Artist of the Year and the Diva Award for Solo Performer.
She is also a workshop facilitator with many years' experience, and has worked with adults and young people in areas as diverse as listening and communication, writing, performance and compering skills.
Following her successful fight against throat cancer, Things I Did While I Was Dead includes new poems and many of her award winning works, published in a solo collection for the first time.
http://www.rosielugosi.com
http://www.myspace.com/rosiegarland

Hugely entertaining, tough-talking … a celebration of female sexuality, of power and liberation" - Carol Ann Duffy, Mslexia
"One of the country's finest performance poets" - Apples and Snakes
"She is the mistress of language, whether it's making you laugh or informing your emotions. Here is a courageous artist with guile and expertise in equal measure" - Gerry Potter, poet, playwright & director
"A national treasure" - Dead Good Poets Society

Flapjack Press is immensely proud to welcome Rosie into its unstable stable of poets.
Website : http://www.rosielugosi.com

Titles by Rosie Garland (aka Lugosi)

Things I Did While I Was Dead
Powerfully articulating themes as diverse as relationships, childhood, serial-killers and gender, this passionate and thought-provoking new collection showcases Rosie's affecting and award-winning poetry. And, as with her previous collections under the guise of alter-ego Rosie Lugosi, it has a deliciously determined bite.
Give me heat. I want to singe my fingers.
I want them sticky, messy, down and dirty,
I want life and all it costs.

- from "Love Bites"


"Rosie has an eye for the unusual detail. Candid, tender and surprising, these are poems about love and longing, myth and mirrors, the self and the other self. Things I Did While I was Dead packs a powerful punch" - Jackie Kay MBE, poet & novelist

"Hugely entertaining, tough-talking … a celebration of female sexuality, of power and liberation" - Carol Ann Duffy, Poet Laureate

"One of the country's finest performance poets" - Apples and Snakes

"She is the mistress of language, whether it's making you laugh or informing your emotions. Here is a courageous artist with guile and expertise in equal measure" - Gerry Potter, poet, playwright & director

"A national treasure" - Dead Good Poets Society
Price £5.99
Details