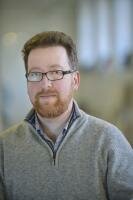 Gregory Norminton's novels include The Ship of Fools (2002), Arts and Wonders (2004), Ghost Portrait (2005) and Serious Things (2008), all published by Sceptre. Other books include The Lost Art of Losing (2012), Thumbnails (2013) and Beacons – stories for our not so distant future (editor, 2013). His stories have appeared on BBC Radio 4, and in Prospect, Resurgence, London Magazine and The Lonely Crowd. He teaches creative writing and English at Manchester Metropolitan University. www.gregorynorminton.co.uk. His collection, The Ghost Who Bled, is out in 2017 with Comma Press.
See Gregory talk about his work, http://www.youtube.com/watch?v=LX3vxpaq6l4&list=UUv5U5Ahwj6Z68dkIFIRDlBQ&index=9 See Gregory read his work, http://www.youtube.com/watch?v=EPUUrxTC2Rw&list=UUv5U5Ahwj6Z68dkIFIRDlBQ


Gregory Normington reads 'Pile-Up', see link below.
Website : http://www.youtube.com/watch?v=tUt9n1oUuq4&list=UUv5U5Ahwj6Z68dkIFIRDlBQ&index=27