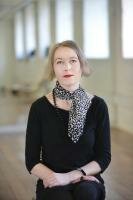 Sarah-Clare Conlon's prize-winning micro fiction is published by Salt Publishing and Flash and Paris Lit Up magazines, among others. She made her international performing debut in Paris in 2014 and is one half of spoken word and music act Les Malheureux with author David Gaffney, and she organises events and anthologies with writing collective FlashTag. She has worked for Elle and Nova magazines and Manchester Literature Festival, and writes the award-winning culture blog Words & Fixtures as well as features for The Skinny, Creative Tourist and The Manchester Review. She currently proofreads for Arts Council England while also studying for a Masters in Creative Writing at the University of Manchester.

Watch Sarah-Clare Conlon read 'I See Electric', in the youtube link below.

'I See Electric' is a short-short story first written and performed in 2011. It was published in a much different, longer form by the now defunct Spilling Ink Review, but its new micro size fits better for Les Malheureux, a spoken word and music act combining myself and David Gaffney. The new version will appear in Stand magazine later this year.
Website : http://www.youtube.com/watch?v=qeDkFxS10cc&list=UUv5U5Ahwj6Z68dkIFIRDlBQ