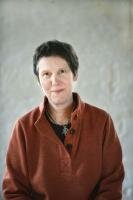 Carola Luther's first 2 collections, Walking the Animals (2004) and Arguing with Malarchy (2011) were published by Carcanet Press.

Herd, a pamphlet of poems, was published in 2012 by The Wordsworth Trust.

Walking the Animals was shortlisted for the Forward Prize for First Collection in 2004.
Carola was the Poet in Residence at the Wordsworth Trust in 2012.

Watch Carola Luther read 'Mourning' and 'Acres', in the youtube link below.
Website : http://www.youtube.com/watch?v=t-2TOhkPe_g&list=UUv5U5Ahwj6Z68dkIFIRDlBQ