Self-confessed Everton supporter
Titles by Ian Leech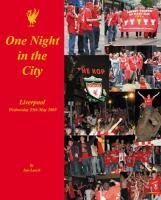 One Night In The City
Liverpool - Wednesday 25th May 2005... truly a memorable night. From being 3-0 down at half-time to a fantastic win, making Liverpool FC a five-times winner of the European Cup. Liverpool city centre was an exciting place to be that night.
One man (a self confessed Everton supporter) recorded it all. The author, a gifted amateur photographer was persuaded to bring his daughter, Mel (an avid Liverpool supporter) to savour the sights and sounds of that night.
His photographic record is here for all to share. Ian has captured the despair, the joy and the rapture of so many of the fans that night. He has also caught that unique Liverpool humour and sense of fun that makes Liverpool and Merseyside such a special place.
Full colour photographs
Price £8.50
Details
ISBN 1901231550
Publisher Countyvise
Genre Non Fiction
Setting Merseyside
Extent 80pp