Exiled from his native Merseyside the 34 year old author resides in the parochial splendor of Heywood, Lancashire.
He has also written as non-league sports reporter for the Liverpool Daily Post and Echo, Football Echo, St Helens Star and St Helens Reporter.
Better Than the Brazilians
Two encyclopaedic titles focussing on clubs with very contrasting fortunes
Freelance contributions to the now defunct Liverpool FC centred magazine Xtra Time.
Titles by Darren Phillips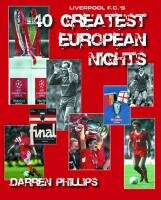 Liverpool F.C.'s 40 Greatest European Nights
Over the course of 40 years beginning with a low key visit to a modest stadium in Reykjavik to one glorious night in Istanbul, Liverpool have featured in some of the most renowned games ever witnessed in UEFA competitions.
Even years on many are still talked about across Europe and the rest of the world. Coming back from a 3-0 deficit at half-time against AC Milan was just one of those remarkable nights.
However, there have been many more over the decades and not all involving the lifting of club football's ultimate prize.
As a Kop season ticket holder for many years, author Darren Phillips has soaked up the unique atmosphere and witnessed many of these special occasions first hand. He has selected 40 of the very best as a commemoration of The Reds anniversary as well as the remarkable achievement of being crowned Champions of Europe five times.
Price £12.50
Details
ISBN 1901231593
Publisher Countyvise
Genre Non Fiction
Setting Merseyside
Extent 140pp