Spencer has broadcast his show, On the beat on BBC Radio Merseyside for over 20 years, and writes for a range of publications, including the Independent, Record Collector and the Virgin Encyclopedia of Popular Music. He is also the author of nearly 20 books, including 1000 Number Ones, Twist and Shout!, The Walrus was Ringo - 101 Beatles myths debunked, and Presley Nation.
Titles by Spencer Leigh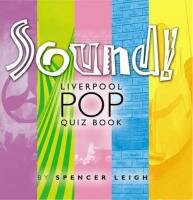 Sound: Liverpool Pop Quiz Book
What do Elvis Costello, Carol Decker and Guy Chambers have in common? What links Dr and the Medics and the Spice Girls? What about the Lightning Seeds and the Zutons, OMD and Atomic Kitten? There's one thing all these performers have in common... Liverpool. Sound! celebrates the exceptional success of bands, singers and musicians from Liverpool in handy pocket-sized pop quiz format.
Price £5.00
Details
ISBN 954843118
Publisher Capsica
Genre Non Fiction
Setting Merseyside
Extent 96pp